Puppies
Welcome to my Puppies page
We are planning a Litter in Spring 2009 !
Please feel free to contact us for more information
from time to time we may have Adult Borzoi's for sale to Forever Homes only !
Kenibea borzoi's are born into a household where they are the primary focus. They are given the best of everything.... They are given the very best start in life and are well socialized in a family environment before leaving us to go to a new homes. I do not offer my pups for sale lightly and prospective owners need to be dedicated to providing a STABLE PERMANENT home for an Kenibea Puppy!!

I do not breed litters very often and most of my bitches have only one litter during their lifetime. Litters are never bred to make a profit, litters are only bred to improve the breed - and usually only planned when we require something for ourselves... There fore puppies are only occasionally available and to avoid disappointment, orders should be placed.

Kenibea Borzoi's are whelped in a specially designated area of the house, where l can keep a close eye on the mother and babies during the first critical weeks of their life. When they are eating solids and mum is no longer cleaning up after them, they are moved into the outside grassed kennel area... They grow up with their mum, and the older dogs, and are we socialized, with dogs and people in general...they are taken to the beach/ and football, general outings, so they realize that there is life outside the kennels..

I am a member of the NSW Canine Control, and as such, uphold its Code of Ethics and l am obliged to breed "only for the purpose of improving the breed". Therefore I intend that pups that I sell as companion dogs or Pets are destined to be just that- wonderful happy family pets.. and l would never want my pups to fall into the hands of an irresponsible owner and to be bred from irresponsibly. Companion dogs therefore are placed on a limit register and are destined not to be bred from. New owners who wish to breed from their puppy must purchase a show quality puppy and become members of the NSW Canine Control...

"Show quality", means that, at point of sale, l believe that the pup displays the potential to be competitive in the show ring. Of course, no guarantees can be made of this. Pups can change quite dramatically as they grow, environment and feeding can most definitely influence the way a dog develops, and one can never be absolutely certain of how a pup will turn out.. Breeders use the knowledge of the dogs lineage, the borzoi standard and their experience in watching pups grow to determine which are "show quality" pups in the litter..

However no breeder can honestly guarantee a Best in Group or Best in Show winner, if you are looking for a guaranteed winner then it would be in your best interest to search for an adult dog who has already been proven in the ring and you'll need to be prepared to pay a good deal more than the average price you would pay for a pup !!!

Kenibea puppies leave here happy and healthy; fully vaccinated for their age, fully and regularly wormed and on heartworm protection, flea and tick prevention. Each new owner receives a puppy pack with a handwritten pedigree, feeding chart, general care pack and helpful hints..

I expect that because l love and respect my dogs, that all my new puppy owners will do the same.

My basic expectations of the new owners are:

(1) That you will provide a permanent, stable, loving home for your borzoi


(2) That you will seek quality veterinary care whenever necessary, including regular vaccinations worming, flea/tick treatments


(3) That you will have a suitable fully fenced, (an appropriate to the dogs height), safe yard for borzoi to play in


(4) That you will spey /neuter your companion pet bitch/dog


(5) If the dog is to be an outside dog that appropriate shelter and warm winter bedding is provided


(6) That purchases of show quality puppies, if not already members, will join the NSW CC


Things l request of the new puppy owners:

(1) That you keep in contact with me (at least once a year) to let me know how your dog is going ( a xmas card and lazy photo is always joyfully received)

(2) That you allow your dog inside your home at least some of the time


(3) That you never hesitate to ask for my opinion, advice or knowledge with anything regarding your borzoi.... Kenibea Borzoi's are cherished individuals and it is my responsibility to do the very best l can to make sure that they go to new homes, where they will also be cherished and given the best of care....
Here are some photo's of our newest litter.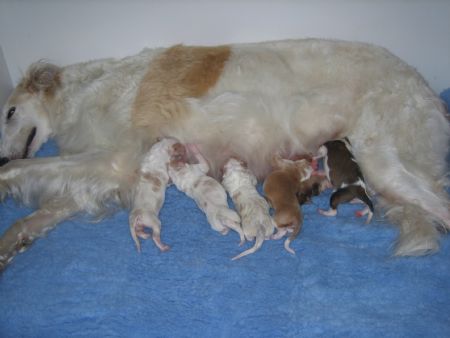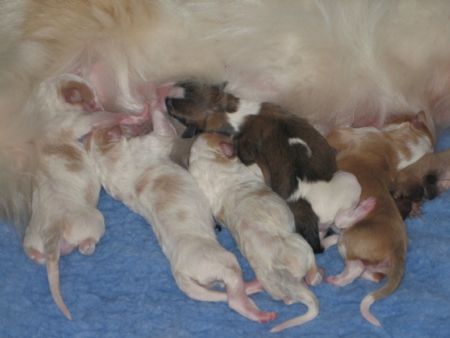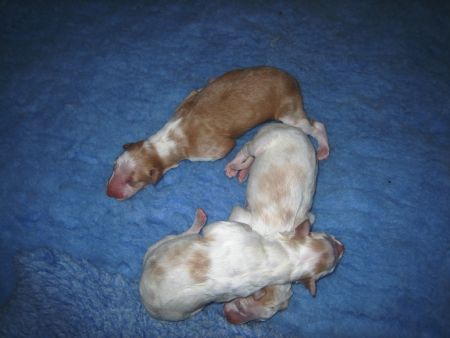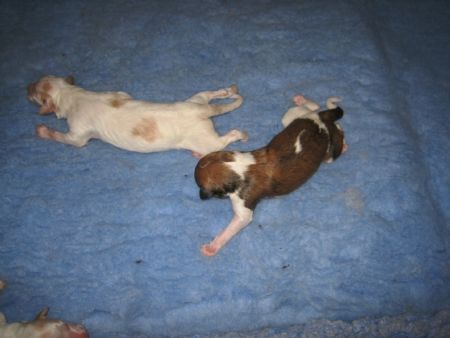 AUSTRALIAN GRAND CHAMPION Kenibea Keepin Th Faith
"KATE"
View More Details